The Prime basin represents a new design experience where "for All" concept exceeds the usual trends of washbasins that, until now, had never considered an "extended use" in the bathroom furniture world
The Prime washbasin can be used not only in domestic environments, but also in public toilets and in all public establishments where compliance with regulations is essential.
Goman is the only and first company being able to develop that concept producing a washbasin "for all", recognized by Design for All Italy.
A washbasin for all, recognized by Design for All Italy.
When concepts of design, aesthetics, trend and utility for everyone come together and merge into one product, that only means design for all.
Goman, once again, promotes concepts of "Design for all", so that the renowned association Design for All Italy has recognized all its elements of innovation by awarding the prestigious brand DfA Gold to the basin Prime.
This is the most important recognition granted only in the case where the product meets all the principles and requirements of the Design For All, regarding the category in which it is inserted.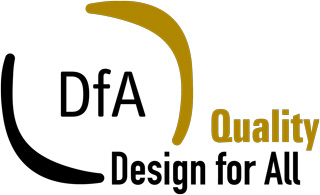 Who is it addressed to? Transversal utility
Washbasin Prime produced by Goman, while offering a very contemporary design, allows designers to "play" with their creativity. They can create a real, accessible, compliant and non-discriminatory bathroom for people with disabilities or seniors.
Prime is aimed at professionals of that sphere, including interior designers and architects, who can use Prime program to design elegant bathrooms for hotels, restaurants and public facilities, to make them accessible to all, without discrimination. In addition, Prime basin is also suitable for private environments, for those who want a modern bathroom, elegant and functional at the same time.
Freedom and flexibility
Prime allows great flexibility and freedom of use.
With the Goman washbasin, it is possible to use different materials, colours and accessories.
Just a few details are enough to create a modern bathroom for residential and commercial users, such as the bathroom of a hotel room or a restaurant.
Thanks to the installation of Prime basin in the bathroom, you can create a lovely, accessible bathroom.
Features of Prime
Prime is not just a countertop basin. Combined with the top and its installation instructions, Goman make real the ideas of Design for All, according to the regulations in force.
Furthermore, it can also be adapted to any top. In case you have to create a bathroom in line with accessibility regulations, top has to respect very specific characteristics, as specified in the installation instructions:
A maximum thickness of the top of 4 cm.
A total height of maximum 72 cm. from the ground.
Goman's design expertise and experience has allowed to create a multifunctional washbasin that complies with existing legislation for elimination of any Architectural Barriers. It also allows people with disabilities and using a wheelchair to enjoy the bathroom without any obstacles.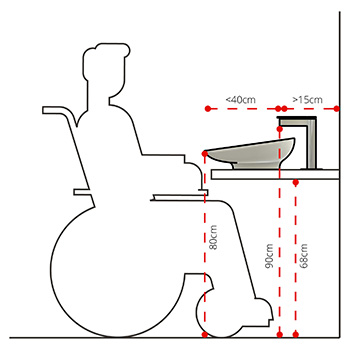 Always in an accessible perspective, Prime has been designed with an inclination to the user of 8 degrees. That feature allows you to tilt your elbows and use Prime in a simple and comfortable way. In addition, thanks to the concave front edge, the user can move closer to the center of the bathtub and to the tap.